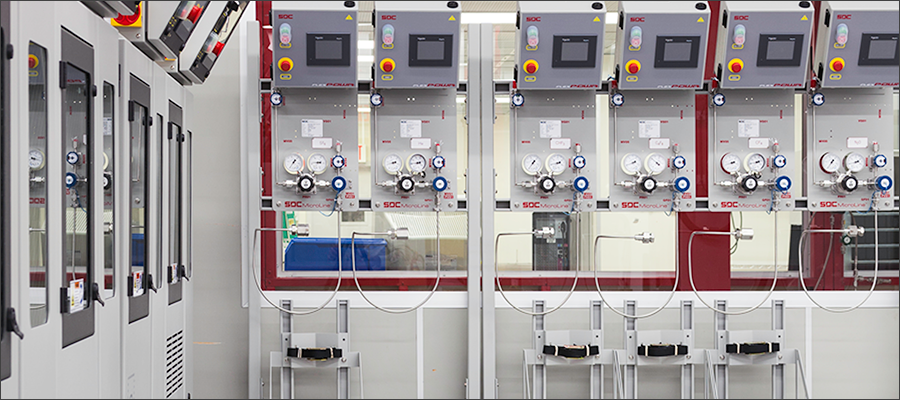 Company Profile
Stainless Design Concepts (SDC®) is a manufacturer of Ultra-High-Purity (UHP) gas and chemical delivery systems for high-tech fabrication processes. For more than 30 years, we have designed and assembled process gas panels for leading equipment manufacturers and R&D institutions around the world.
SDC is the gas and chemical delivery systems division of CVD Equipment Corporation, NASDAQ (CVV). SDC® has a reputation for utilizing innovation and technology to produce a complete line of gas and chemical management systems delivering quality directly to the semiconductor wafer. While CVD Equipment is a manufacturer of a broad line of chemical vapor deposition equipment for the Semiconductor industry, SDC® made its mark as a technology driven manufacturer of Ultra-High-Purity (UHP) gas and chemical delivery systems for semiconductor fabrication processes. SDC® have been assisting Universities, Research Laboratories, and Industrial Production as a leading global manufacturer of Ultra-High-Purity (UHP) systems with a concentrated effort in the Microelectronics, Nanomaterial Production, Aerospace, Research, and Pharmaceutical markets.
Located in Saugerties, New York, about two hours north of New York City, this one-time field construction office evolved into a UHP equipment manufacturer and UHP service provider, holding a pulse on technology, trends, and opportunities while providing turnkey capabilities. SDC® operates out of a 25,000 ft2 facility fitted with over 4,000 ft2 of Class 10 and Class 100 clean room manufacturing and laboratory space. With a clear understanding of how instrumental process support equipment has become, SDC® offers complete gas and chemical delivery product lines ranging from industrial to next-generation chip fabrication. Customers now recognize the SDC® gas management systems and application specific chemical systems are among the most advanced available.
Internal design and manufacturing capabilities enables rapid system development. SDC procures raw materials to deliver finished systems.
SDC's seasoned engineers--- from design, application, development, mechanical and electrical engineers---specialize in design of gas and chemical delivery systems. Each engineering workstation is outfitted with the latest AutoCAD® Inventor™ 3-D modeling software, schematic capture and diagnostic software. An enormous database of design icons accelerates all design cycle time.
SDC's facility offers cutting edge design, clean room manufacturing and certification testing of UHP stainless systems. SDC operates out of a 25,000 ft2 facility fitted with over 4,000 ft2 of clean room manufacturing and laboratory space. Equipped with several orbital welding stations, SDC's expertise and quality control in orbital welding of stainless steel are at the very foundation of the purity, reliability, and safety achieved in SDC's products.
Since the late 1980's OEM manufacturing and private label equipment manufacturing has been a large part of SDC's business. Dozens of first tier semiconductor manufacturers and back-end equipment companies around the globe have turned to SDC for subsystem manufacturing. SDC's extensive OEM capabilities include:
UHP Gas & Chemical Piping Subsystems
Gas Boxes
Controls Systems
Turn-key Equipment Assembly, Test, QC
SDC's gas and chemical management systems are among the most advanced available. What differentiates SDC from the competition is its intimate understanding of the point-of-use process applications, having designed and built process gas panels for the world's leading high-tech equipment manufacturers, Universities and well as government research and development institutions.
Mechanical & Electrical Assembly
Our mechanical and electrical team consists of skilled technicians with great attention to detail. Approximately 10,000 ft2 of the SDC facility is dedicated to mechanical & electrical assembly as well as test.
SDC has taken extensive measures to provide the most failsafe designs and combine them with some forward thinking features in an effort to offer a safe, versatile product that meets any specialty gas delivery requirement. All UHP wetted flow paths including purge panels, pigtails, and other dynamic pressure bearing components are welded by ASME Section IX Certified Welding Technicians.
The company's analytical laboratory performs full certification of products under both dynamic and static test conditions to verify functionality and meeting Ultra-High-Purity (UHP) specifications. With a well-seasoned Quality Management Program, this has improved many areas of the company's business processes including manufacturing efficiency; on-time deliveries; supplier and customer partnering. The goal of this initiative is total customer satisfaction.
Semiconductor
Nanotechnology
Photovoltaic/Solar
Aerospace
Optoelectronics
LED
Flat Panel
Coatings
Pharmaceutical
Research
University
Australia | New Zealand


AB Mandal Pty Ltd
Unit B3, 15-21 Doody St
Alexandria 2015
N.S.W. Australia
Contact: Peter Horn
Phone Number: +61 2 9954 4330
E-Mail Address: phorn@abmandal.com.au
http://www.abmandal.com.au/