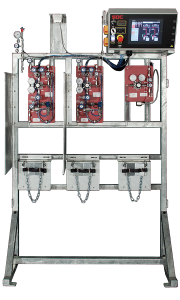 CiphercoN™ 1500 Outdoor Silane Gas Cylinder Rack
Download Brochure
The CiphercoN™ 1500 Fully Automated Outdoor Silane (SiH4) Gas Cylinder Rack is representative of SDC®'s continuous drive and commitment to providing the industry's most reliable Ultra- High-Purity (UHP) specialty gas equipment available. Mass customization and modular design concepts of the gas panels & controls architecture have combined to widen the product configuration spectrum and greatly increase user flexibility.
From the Fab to the Lab, SDC® sets itself apart as the clear choice for value in today's budget - conscious environment.
The CiphercoN™ 1500 outdoor silane (SiH4) gas cylinder rack can also be configured for bulk silane (SiH4) delivery which makes it simple to meet your exact gas delivery needs. Our 1500 product line modular design concept allows for component level replacement, ease of service and upgradeability. Begin by choosing one of several "core" gas rack configurations. Start customizing right at the gas panel level with standard choices for regulator type, valve type, transducer ranges and purity level. Zero in further with a myriad of options like purgeable splitters, RFO, filtration, purification, and many more. SDC®'s SPEC √ ™ checklist will walk you through this process in a simple, step-by-step manner. Our Sales Engineers are always available to work through the customization process with you too, either by phone or in person.
PLC control of all critical functions
Bright 10.4" color touch screen interface
Proven auto-sequenced routines for all aspects of operations and maintenance
User settable limits for all process and alarm parameters
Exhaust pressure monitor
On-screen warnings, alarms, prompting and instructions
Emergency Off (EMO)
EMO and EGO inputs
Alarm outputs
Multi-level password protection
Diagnostics screen
Valve cycle count screen
Z-Purge ready for Class I Div II compliance
Ultra-High-Purity (UHP) 316L SS or VAR construction
Surface finish 10 Ra avg. or better
Springless diaphragm valves
Tied-diaphragm process regulator
Precision flow sensor
Vacuum assisted purging
UHP orbitally welded with strategic VCR® breaks
Helium leak tested to 1.0 x 10-4 atm-cc/s
CLASS 100 / CLASS 10 cleanroom assembly and tested
2-cyl, [1-process, 1-purge]
2-cyl, [2-process], external purge source
3 cyl, [2-process, 1-purge]
Independent out or autoswitchover
2 cyl: 36"W x 83.25"H x 24"D
3 cyl: 52"W x 83.25"H x 24"D
* Height dimensions include controller. Add 6.0" to width with cylinder heating option.
SME Section IX
SEMI™ S2 Safety Guidelines for Semiconductor Manufacturing Equipment
NFPA® 79, 496, 70 [NEC®]
Factory Mutual®
UL®
CE®
CGA G-13
Exhaust Specifications & Requirements
| | | |
| --- | --- | --- |
| Pneumatic Supply | adjustable to 90 psig | 1 slm max. |
| Process Purge | adjustable to 80 psig | 30 slm max. |
| Vacuum Drive | adjustable to 85 psig | 85 slm max. |
| Process Vent | >1.0" WC | 100 slm |
| Power | 110V / 3A | N/A |