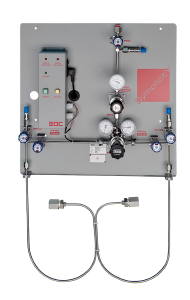 SymplicitY™ UHP Semi-Auto Panel
Download Brochure
The SymplicitY™ UHP gas panel with auto-switchover is an Ultra-High-Purity gas panel designed for uninterrupted supply of gas to one or more points-of-use.
The heart of this cost-effective process gas panel is the changeover regulator. When the primary supply cylinder comes close to depletion, the changeover regulator automatically begins intake from the second cylinder while delivering at a slightly lower delivery pressure. This pressure is raised by simply rotating the regulator handle 180 degrees. The depleted cylinder can now be replaced without affecting delivery from the new primary cylinder. SDC surrounds this regulator with a HP design that offers safety, purity and performance in a budget minded package.
The optional StatBox™ provides an audible and visual alarm when any one of the cylinders reaches its preset depletion limit. ONLINE, SIDE "A" DEPLETED, and SIDE "B" DEPLETED LED's provide quick visual status while the piezo audibly alarms when activated.
Process purity levels are ensured through the use of top quality 316L SS or Ni plated brass tubing and components. The flow paths include the switchover regulator, valves, gauges, fittings, CGA's, optional check valves, and secondary regulator. Optional flex pigtails are SS w/SS overbraid.
PLC control of all critical functions
4-Line backlit LCD character display interface
Membrane touch-pad user interface
Proven auto-sequenced routines for all aspects of operations & maintenance
User settable limits for all process and alarm parameters
On screen warnings, alarms, prompting and instructions
EMO and EGO inputs
Alarm outputs
Multi-level password protection
Scale or pressure based auto-switchover
Expandable to six (6) points of use
Primary regulation
Indicating pressure switches for each cylinder
Delivery pressure gauge
Pigtail vent systems purchased without the PURGE/EVAC option
Vent check valves to prevent back streaming
Minimized DEAD LEG process gas path
All UHP/Semiconductor grade components
1-cylinder x 1-cylinder
1-dewar x 1-dewar
1-dewar x 1-cylinder
½" HI-FLOW Model
HIGH FLOW model
Cylinder or dewar scales
Point-of-use regulation (up to 8)
Dual stage primary regulator
Filtration
5 and 10 Ra finishes
ASME® Section IX
OSHA® 29 CFR 1910, subparts S and H
NFPA® 79 Electrical Safety for Industrial Machinery
SEMI® S2 Safety Guidelines for Semiconductor Manufacturing Equipment
SEMI® S8-95 Safety Guidelines for Ergonomics/Human Factors Engineering
Exhaust Specifications & Requirements
| | | |
| --- | --- | --- |
| Pneumatic Supply | adjustable to 90 psig | 1 slm max. |
| 1Process Purge | adjustable to 80 psig | 85 slm max. |
| 1Vacuum Drive | adjustable to 85 psig | 85 slm max. |
| Process Vent | >1.0" WC | 100 slm |
| Power | 115V / 3A | N/A |
1Needed with PURGE/EVAC option only.