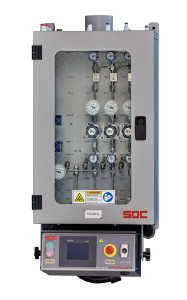 FlexGas™ Manual/Semi- Automated VMB
The FlexGas™ manual/semi-automated valve manifold box is designed to meet the most demanding requirements for safe handling and Ultra-High-Purity (UHP) delivery of many process gases. A myriad of configurations are available to delivery to up to eight (8) points-of-use in this UHP and very compact package. Sister product to the popular FlexGas gas cabinet, it is also representative of SDC®'s continuous drive and commitment to providing the industry's safest and most reliable UHP specialty gas equipment available. Mass customization and modular design concepts of gas sticks and FlexPowr™ Controller architecture have been combined to widen the product configuration spectrum and greatly increase user flexibility --- no more paying way too much for a system that far-and-away exceeds your requirements.
Start by choosing one of several base configurations. Begin customizing right at the gas panel level by selecting the number of gas sticks you require. Next, determine whether your systems requires only PURGE, only EVAC, or both PURGE & EVAC. Continue by configuring each individual gas stick to meet your process requirements. Stick options are listed below under the Options category.
The FlexPowr™ Controller adds safety and peace-of-mind. A normally-closed ESO Valve is added as part of the FlexPowr™ Controller option for automatic shutdown of the INLET MANIFOLD. It also supports up to 4 dry-contact alarm inputs. Exhaust pressure switch, gas leak detection, and UVIR are just some of the optional controls components available for shutdown.
From the Fab to the Lab, SDC® sets itself apart as the clear choice for value in today's budget conscious environment.
FlexPowr™ Control Features
For automatic shutdown of VMB on individual sticks (4 -Valve only)
User configuration Inputs/Outputs
Process alarm output
Exhaust pressure fail
Hazard alarm output
Modular design
UHP construction methods
4 or 8 - Stick Inlet Manifold
Fully seam-welded enclosure with lockable access door
UHP 316L SS or VAR components, fittings and tubing
10 Ra internal surface finish
Manufactured to "semiconductor grade" standards
4-stick [0-4 sticks populated]
8-stick [0-8 sticks populated]
17"W x 31"H* x 12.38"D
*38"H w/FlexPowr™ Controller
Pneumatic E-STOP only
FlexPowr™ Controller
Inlet filtration/purification
PURGE CIRCUIT
EVAC CIRCUIT
Filtration
High Flow
Pressure regulator (gas stick)
Pressure gauge (gas stick)
Coaxial pressure outlets (gas stick)
Coax jacket monitor (gas stick)
Gas leak detection (FlexPowr™ controller)
UVIR detection (FlexPowr™ controller)
Exhaust Specifications & Requirements
| | | |
| --- | --- | --- |
| 1Pneumatic Supply | adjustable to 90 psig | 1 slm max. |
| 2Process Purge | adjustable to 80 psig | 30 slm max. |
| 3Vacuum Drive | adjustable to 85 psig | 85 slm max. |
| Process Vent | >1.0" WC | 100 slm |
| 1Power | 115V / 5A | N/A |
| Sprinkler (if used) | 30 psig | 31 gpm |
| Exhaust | >0.15" H2O | 150 scfm (2-cyl) |
| | >0.15" H2O | 250 scfm (3-cyl) |
1Needed only with optional FlexPowr™ Controller
2Needed only with optional PURGE CIRCUIT
3Needed only with optional EVAC CIRCUIT