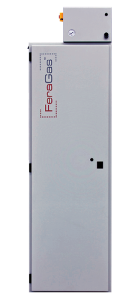 FeraGas™ Heated Cylinder Storage Cabinet
Download Brochure
The FeraGas™ is a cylinder storage and gas delivery system designed to maintain gas enclosure temperatures and prevent temperature swings that may affect your calibration standard gases. As temperatures dip to dew point and below, heavier gas components settle at the bottom of the cylinder, while the lighter components accumulate closer to the top. This separation or "stratification" is prevented by mediating the enclosure temperature. The FeraGas™ also protects against hydrocarbon dew point and condensation on the interior cylinder wall.
The standard FeraGas™ enclosure cabinet houses cylinders up to 61"H x 12"D. The controls enclosure located at the top of the gas cabinet houses the power disconnect, thermostat controls, temperature gauge and gas delivery pressure gauge (with gas panel option). The gas cabinet enclosure utilizes cutting-edge reflective insulation technology to minimize BTU loss and keep cost of operation down.
This product is used to store and deliver temperature controlled calibration standard gases used in the oil refining, electric utilities industries as well as any companies using EPA testing protocols.
Thermostat temperature control, heat only
(30-120 °F, 0-50 °C)
475W
Overtemp protection
Temperature gauge
Lockable power disconnect
NEMA 4X controls enclosure
2-valve gas panel
3-valve gas panel (includes OUTLET ISOLATION VALVE)
4-valve gas panel includes PURGE CIRCUIT)
Eleven (11) gauge cold rolled steel body
Houses 1 or 2 full size gas cylinders
High quality, fully seam welded construction
1/4" diamond -plate hard deck
Self-closing, fully gasketed, triple-hinged doors
Lockable safety latches on doors
Unistrut® compatible interior mounting rails
Seismic tie-down clearance holes for 5/8" bolts
Cylinder clamps with tension straps
Light gray, textured, ruggedized polyurethane finish
2-cyl: 24"W x 72"H x 18"D
3-cyl: 36"W x 72"H x 18"D
4-cyl: 48"W x 72"H x 18"D
Micro-Adjustable Cylinder Shelves
Plumbing Backplanes
Custom Cabinet Colors
Custom Coating
Custom Labeling and Logos
ASME Section IX
CGA®
CE®
Semi S2®
NFPA®
UL®
Exhaust Specifications & Requirements
| | | |
| --- | --- | --- |
| Process Vent | >1.0" WC | 100 slm |
| Power | 110V, 3A | N/A |
| Sprinkler | 30 psig | 31 gpm |